While seeing wild horses is rare in most parts of the country, Utah is an exception. Home to 22 beautiful herds of horses that run wild and free throughout the desert plains, Utah has become one of the best places for spotting wild horses in the United States.
Today, you can find herds of wild horses roaming Millard County's west desert—just as they have for hundreds of years. If you've always dreamt of seeing horses in the wild, it's time to make that dream a reality. In this guide to spotting wild horses in Millard County, we're covering everything you need to know to make it happen.
History of Wild Horses in the West Desert
For thousands of years, horses have been domesticated and used for labor all over the world because of their strength and speed. So, how did wild horses end up in Utah? Back in the 1800s, domestic horses were working for ranchers when they decided to go on permanent strike. One day, they made their great escape and galloped off into the west desert in search of freedom.
Over the years, the wild horses became an invaluable part of Utah's abundant wildlife community and were loved by the locals. In 1971, Congress passed the Wild Free-Roaming Horse and Burros Act, which granted the horses protection as symbols of the West's pioneer spirit.
Utah's wild horses now live freely in herd management areas throughout the state. Today, the Bureau of Land Management (BLM) manages 19 herd management areas across over two million acres of Utah land to ensure the health of the horse population.
Where to Find Wild Horses in Millard County
If you know where to look, there are plenty of opportunities to find wild horses in Millard County. It's a sight that truly never gets old and one that you'll want to have your camera ready for. There are two popular herd management areas in Millard County: Swasey HMA and Conger HMA.
To increase the chance of a herd sighting, many adventurers drive in a loop through both herd management areas. The long drive offers incredible scenery with fantastic wild horse viewing opportunities. If you're looking for an exciting day trip in Millard County, consider this scenic route.
Tips For Spotting Wild Horses in Millard County
Now that you know where to find horses in Millard County, here are a few key tips to keep in mind before you hit the road.
1. Practice patience.
Unless you have spectacular luck, you probably won't spot horses right away. It's important to practice patience and drive slowly, paying especially close attention to watering holes and valleys. If you come across a watering hole, stay quiet and limit your time to ensure that the horses feel comfortable in this vital part of their environment.
2. Respect the horses.
Keep in mind that these are wild horses that should not be pet or fed, no matter how cute they look. Wild horses are instinctively wary of humans, so be sure to maintain a respectful distance and avoid making loud noises. Honor these beautiful animals by being courteous during your visit.
3. Come prepared.
You may be in for a long drive, so remember to prepare for the car ride with water, snacks, and a full tank of gas. Before you head out, you'll also want to check the recent weather conditions, as many roads can become impassable after heavy rains.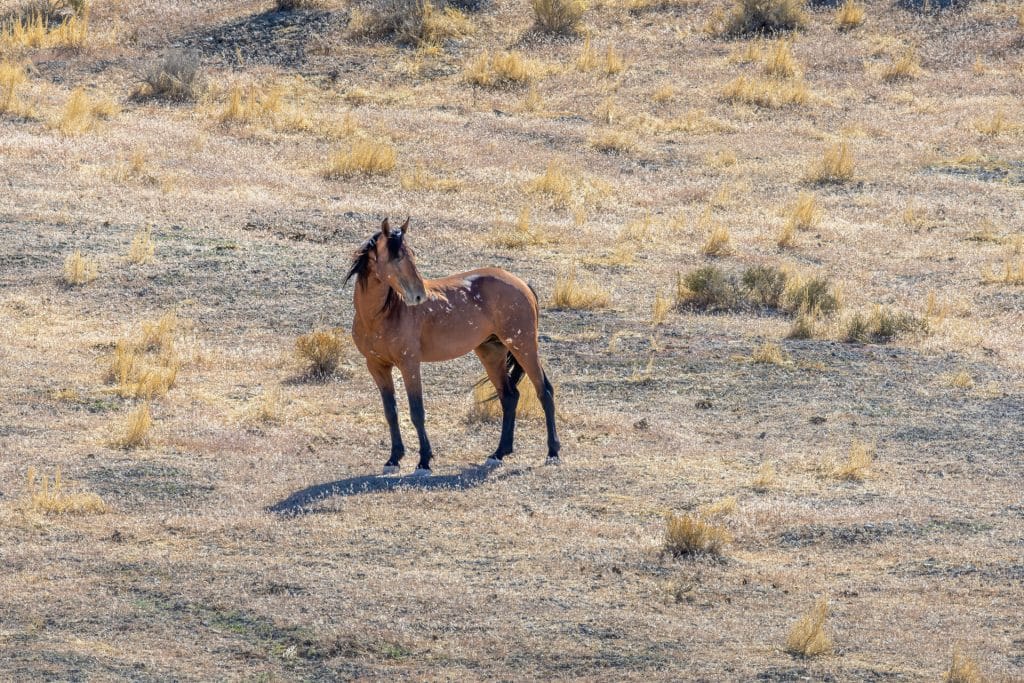 We hope that this guide on spotting wild horses in Millard County proves to be useful as you venture out on your excursion. As long as you keep these tips in mind and travel along the herd management areas, you should be in for a treat. Looking for more Millard County attractions? Be sure to check out our other blog posts.