As the largest city in Millard County, Delta is home to a wide array of fun things to do for families and adventurers of all ages. Each year, tourists travel from around the country to take advantage of the natural beauty and exciting activities that Utah has to offer.
Whether you're planning a day trip to Delta or a jam-packed weekend getaway, you won't be disappointed. To provide you with some inspiration for your next trip, we have rounded up some of the best things to do in Delta for you to add to your travel itinerary.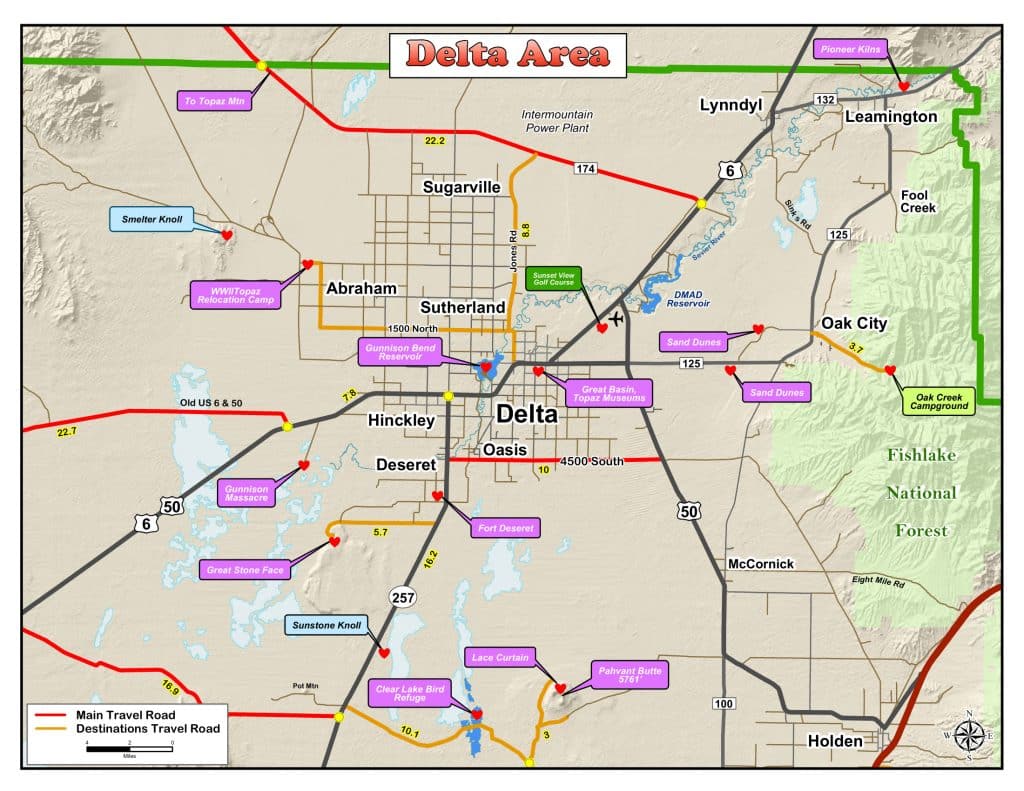 Things To Do in Delta
Here are our top picks for the best things to do in Delta on your next visit:
1. Explore the Museums
Delta's most popular museums, Topaz Museum and Great Basin Museum, are conveniently located right next to one another. If you're looking for a great way to kill a few hours and learn more about the fascinating local history, be sure to add these kid-friendly museums to your Delta travel itinerary.
2. Play at U-Dig Fossils
One of the top reasons why people visit Delta is to experience the incredible nearby trilobite quarry where visitors can dig their own fossils and keep what they find. The staff will provide you with all the tools you need, as well as access to 40 acres of the world's richest trilobite shale. If you'd rather stay close to your home base and skip the digging, you can purchase trilobites and other unique fossils at Delta's Bug House shop.
3. Golf at Sunset View Golf Course
If you love to golf, you can't miss out on the experience of golfing at the Sunset View Golf Course. This pristine 18-hole course is one of the only courses in northern Utah that stays open during the winter, allowing for year-round golf. Sunset View is known for being affordable, well-kept, and generally free from crowds. Oh, and the jaw-dropping views of the surrounding mountains certainly don't hurt!
4. Visit Great Basin National Park
While the park isn't technically located in Delta, it's only around an hour away and makes for a wonderful adventure for lovers of the outdoors. Actually, Delta is commonly referred to as the gateway to Great Basin National Park because of its close proximity. If you're looking for an exciting day filled with hiking, exploring caves, and basking in breathtaking views, carve out some time to spend here.
5. Enjoy a Picnic at Delta City Park
If you're visiting on a sunny day, embrace the beautiful outdoors with a relaxing family picnic at Delta City Park. There's plenty of shade and seating at the pavilions, as well as seasonal restrooms, a playground, a skate park, a splash pad, a soccer field, a basketball court, and a nearby waterfall to explore. Make a few sandwiches or grab a meal to go from Ashton Burger Barn (a local favorite!) and head out for a gorgeous day.
More Things to Do in Millard County
We hope that this guide to some of the best things to do in Delta helps you plan an unforgettable visit to Millard County's largest city. Looking for more exciting things to do in Millard County? Look no further. Check out our Millard County travel blog to find the area's best attractions and year-round events.